Toro Walk Behind Heavy Duty Brush Cutter BRC-28
Toro BRC-28 Heavy Duty Brush Cutter (33522)
1 Unit Instock 
The Toro BRC28 is a versatile machine is ideal for the rental and landscape contractor industries, as performance, durability and usability are key elements in its design. The commercial grade, self-propelled brush cutter allows operators to level brush, tall weeds, saplings and heavy vegetation with ease. The Toro hydro drive brush cutter, featuring a pivoting deck, can handle brush up to six feet tall and saplings up to two inches in diameter.
A high-strength steel deck, 1 3/8 inch spindle shaft and larger diameter pulleys optimize the longevity of the machine
Easily maneuver this powerful machine in both forward and reverse with the one-hand control feature
The pivoting deck combined with the flail blade ensures easy maneuvering and increased cutting performance for even the toughest jobs
Features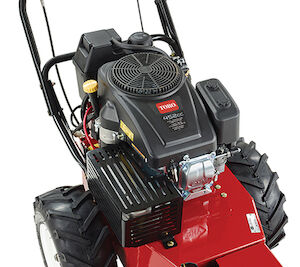 Powerful Engine
The Toro story started over a century ago producing engines. Today they are built for longevity and raw power, matched perfectly to maximize performance of the product they control.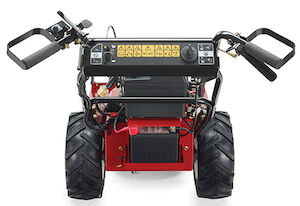 Simple Controls
Easily maneuver this powerful machine in both forward and reverse with the one-hand control feature. These intuitive traction controls ensure both professional and novice operators alike will be able to master.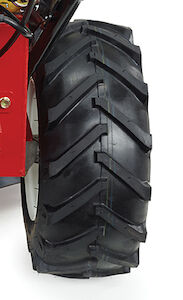 Aggressive Tread Tires
These sealant-filled tires provide effective traction over obstacles and difficult terrain including: slopes, ditches or culverts.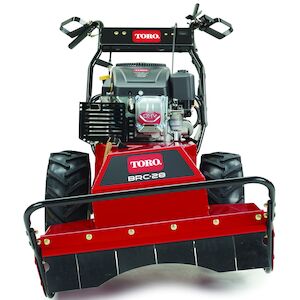 Pivoting Deck
The pivoting deck with a spring return has the flexibility of +/- 10 degrees making for easy maneuvering over uneven terrain.
Safety Features
With two-step blade engagement, coupled with a parking brake, the brush cutter enhances safety for operators. The machine also features knuckle guards and durable rubber deck flaps giving added protection during brush removal.
Specifications
| | |
| --- | --- |
| CARB Compliant | CARB Compliant |
| Cutting Height | 3.75 in. / 9.5 cm |
| Cutting Width | 28 in. / 71 cm |
| Engine | Toro® with Electric Start |
| Engine Brand | Toro |
| Fuel Capacity | 1 gal. / 3.8 L / 4 Qt. |
| Fuel Type | Gasoline |
| Product Use | Commercial |
| Spindle Diameter | 1.375 in / 3.4 cm |
| Start Type | Electric |
| Transaxle | Hydrogear T2 |
Parts & Manuals
Select your model year from the options below to view parts & manuals.